Welcome to Little Woodlands - free tracked shipping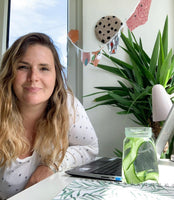 The Tale of Little Woodlands
Founded by mother and children's fashion buyer Amy, Little Woodlands is a sustainable British sleepwear brand for babies, children and mamas.
Amy's designs bring a soothing senseof enchantment to bedtime: dreamy-soft organic fabrics, charming hand- sketched woodland characters and playful pops of colour.
As a mother to three little ones, Amy became disillusioned by the lack of good quality, gender-neutral children's sleepwear available on the British High Street and online. Increasingly frustrated with the limited options available - binary colour palettes, messaging and motifs - Amy launched Little Woodlands from her kitchen table in rural Buckinghamshire whilst on maternity leave with her second baby.
Before long, Little Woodlands was gaining the attention of stylish and conscientious parents all over the UK and
beyond - and in 2019 was judged best children's sleepwear collection in the Junior Design Awards. 
In a crusade against fast fashion and unethical supply chains, independent brands like Little Woodlands are flying the flag for quality and sustainability.
From their timeless, gender-neutral designs to the durability of their fabrics and the integrity with which they have been crafted, these are heartwarming pieces you'll treasure for years – or pass on intact to younger siblings or other new arrivals
Brown paper parcles tied up with string

Each Little Woodlands order is hand packed in a leafy Buckinghamshire village, all our packaging is 100% recyable
Brown paper parcles tied up with string
Each Little Woodlands order is hand packed in a leafy Buckinghamshire village, all our packaging is 100% recyable